In January 2021, Danish Minister for Development Cooperation, Mr. Flemming Møller Mortensen, invited inputs for a New strategy for Danish Development Cooperation Policy to replace the current 'The World 2030' strategy which is expiring this year. Among researchers, there is a concern whether research will be addressed in any substance in the new strategy. An external evaluation completed by Swedish team on DANIDA funded research 2008-2018 proposed in detail four different options for reform. In its finding no.43, the team warns: '…research development has a low profile in international development. Yet it has to respond to shifts in development cooperation, and without a clear niche or strategy might move in directions that discourage the relatively small Danish development research community'. Any initiative is further hampered by the fact that the Consultative Research Committee for Development Research (FFU), which is assessing the research applications, has never published any report on its experiences.
Current call for research applications
Contrary to earlier years, the current call for research applications in DANIDA priority countries (Window 1) has quite a general theme: Sustainable development – climate change; also the health research community will be able to apply, according to a statement by Nanna Hvidt, Head of evaluation and research, Ministry of Foreign Affairs, DANIDA, during the Annual Seminar of the Association of Danish Development Researchers (FAU) in December 2020.
In addition, a Window 2 calls for shorter and smaller projects related to specific research needs of the growth advisors stationed at several Danish embassies in selected growth countries. For Window 2, the same two-step procedure (concept note – full application) applies, although the field of applicants to address a specific area of aid intervention in a particular country is much narrower.
For both Windows, one may question whether an adequate range of scientific disciplines are present with members of FFU. In comparison, Independent Research Fund Denmark of the Ministry of Higher Education and Science is divided into five different research councils (Humanities, Social Sciences, Technology and Production, Medical Sciences, and Natural Sciences). Each council is granting projects solely based on the researchers' own ideas with the objective of improving the quality and internationalisation of Danish research. Also, Danish universities nominate new members of these five research councils on a regular basis. For FFU, there is no nomination procedure. However, one kind of relationship between FFU and the Ministry of Higher Education and Science does exist. The FFU Call text identifies the Innovation Fund Denmark of the Ministry of Higher Education and Science as the final check on the scientific quality of the FFU projects granted – sic!
A walk in the park? – 'Better balance'
Looking at the successful project proposals, the Evaluation Report by the Swedish team offers key statistics on the total sum of grants received by institution. In the table below, University of Copenhagen, accounts for close to half of the total grant sum, i.e., almost half a billion DKK during 2008-2018 with Aarhus University in second place accounting for 13%; then follow the other Danish universities and specialized institutions, each with modest, single digit percentages.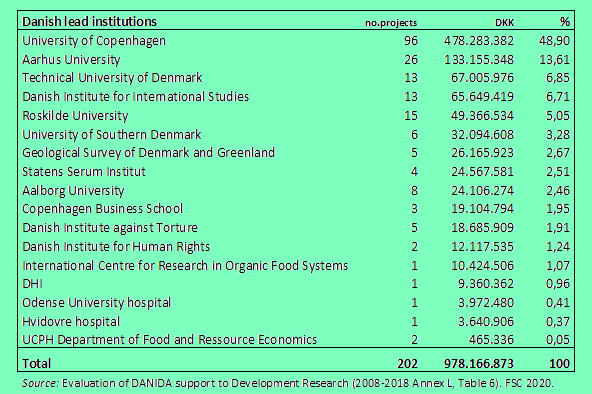 A few years back, when I asked a member of FFU about this pattern of the same applicants winning over and over again, the explanation given was the training in accurately meeting the FFU requirements achieved through repeated submissions over the years. For the chosen few, it is a walk in the park. And it really is! Aerial photography (see map below) reveals the proximity between Danida Fellowship Centre (DFC) administering the grants and one campus of University of Copenhagen. There is an attractive opportunity for exercise through greenery connecting the two. However, the scheme enacted by the previous liberal government 'Better Balance' to address regional inequalities will put an end to all that, as DFC relocates to the city of Holbæk.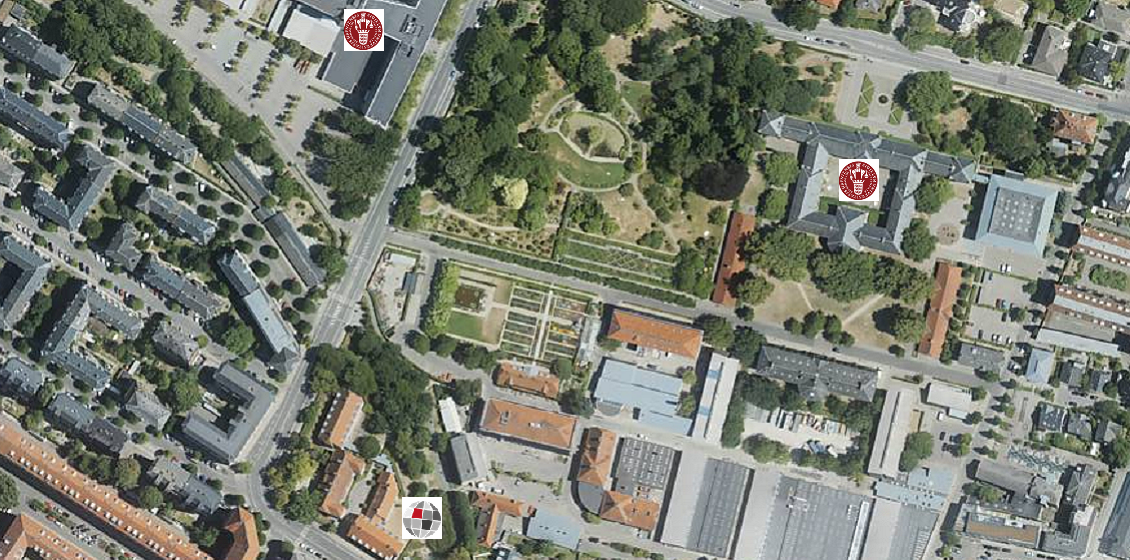 The scope of the evaluation is limited to a ten-year period and to grants offered by DANIDA only. What is more interesting is the South-North research collaboration, which may have started several years back based on a DANIDA grant, but then continued with support from other Danish and international research grants. There are several examples of such longevity and a few are active until today. The experiences of these success stories should be collected and discussed.
Another source for a better understanding of research capacity building would be a thorough review of the full stretch of various DANIDA support modalities: The Enhancement of Research Capacity (ENRECA); specialized scientific centers (forest seed, seed health, bilharzia); funding for thematic research networks in Denmark and for international research programs. Also, the funding of university consortia in Denmark, Thailand, Malaysia and South Africa 1994-2002 by the Danish Cooperation for Environment and Development (DANCED) by the Ministry of Environment and Energy, needs to be covered.
SUPPORT DDRN SCIENCE JOURNALISM. DONATE DKK 20 OR MORE

(APPLICABLE IN DENMARK ONLY)